COVID-19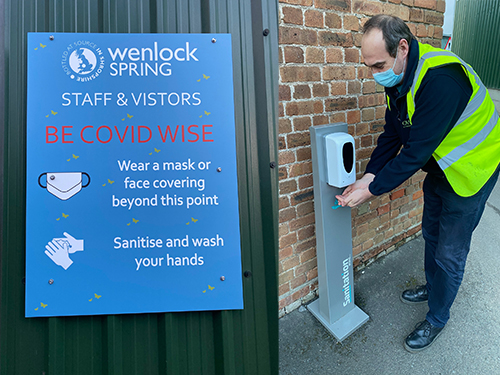 HELPING US ALL TO KEEP
SAFE DURING THE PANDEMIC
We remain very much open for business – we are still producing and delivering Wenlock Spring Water and will continue to supply, service and sanitise kit including mains fed water coolers and hot water boilers to keep your business functioning during this difficult time.
Like many other food & drink companies, we are operating a smaller workforce at the moment. Our drivers and engineers are taking all the necessary and required precautions – including wearing face coverings and gloves and are using approved hand sanitiser between deliveries and service work – all help to stop the spread of the virus.
Please do your bit to keep the team safe as well if are making a delivery to you.
We are able to supply sanitisation kits that include disposable gloves, paper towels and sanitising spray – ideal to clean the surfaces of any of our water machines.
Also, our water coolers and water boilers can now be fitted with hands free push taps and foot pedals as required.
A full copy of our Covid-19 safety policy is available to view here.